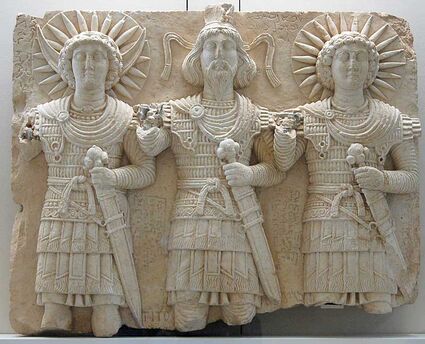 Introduction
Edit
This limestone relief depicts the holiest triad of Palmyrene polytheism: the supreme god Ba'alshamin (center), lunar god Aglibol (left) and the sun god Malakbel (right).  Scholars date the piece to the first half of the first century AD. Palmyrene artistic works of this nature were mostly found in tombs and santuaries, though some pieces were crafted for decoration. [See Campbell 2007, 225]
Technically Speaking
Edit
Although Palmyra, in modern day northern Syria, was a major trading city on the Silk Road during this time period, pecious stones and ornate fixures are absent, with local limestone, which the region had in abundance, as the sole component of the relief.  The flat or round-headed chisel were widely used during the first 1st and 2nd centuries, thus was most likely the tool of choice along with a mallet or other hammer-type tool to chip away at the surface area till the desire detail took shape. [See Eliav 2008, 100]  Excation near Bir Wereb in 1945 unearthed the relief which is currently on display at the Louvre Museum in Paris, France.
Home Grown
Edit
Having become part of theRoman Emprie during the reign of Tiberius near the beginning of the 1st Centruy CE, it was largely responsible for suppling Rome with silks for Roman women and glass used as prominent burial objects [See Butcher 2003, 59].  Due to the amount of trade flowing in and out of Palmrya, most of its denizens were trades by profession, either leading their own cavarvan or guiding others through the Syrian desert. This similar stype of limestone relief is common within Palmyrene personal tombs, with the reliefs depicting the "'peronality' or 'soul' of the person inside the tomb chamber" according to the Metropolitan Museum of Art.
Larger View
Edit
According to the Lourve webpage for their display of the relief, it is a rare piece for serveral reason; the faces of the gods have been preserved intact, this is the oldest known depiction of the triad of Ba'alshamin, and the piece showcases various sources of inspiration. There are aspects of Parthian design, Hellenistic features and Roman military features, all culminated into one work of sculpture. The worship of a polytheistic deity system with a hierarchy is similar to the Greek and Roman beliefs of the same time period.
Bibliography
Edit
Louvre. "The Divine Triad." Accessed April 22, 2013. http://www.louvre.fr/en/oeuvre-notices/divine-triad
Gordon Campbell (editor), The Grove Encyclopedia of Classical Art and Architecture Volume 2: Macedonia-Zygouries  (New York: Oxford University Press, 2007), 220, 225
Yaron Z. Eliav, Elise A. Friedland, and Sharon Herbert (editors), The Sculptural Evnironment of the Roman Near East  (Dudly, MA: Peeters, 2008), 100 
Kevin Butcher, Roman Syria and the Near East (Los Angeles, Ca: Getty, 2003), 59 
Metropolitan Museum of Art. "Gravestone with funerary banquet." Accessed April 22, 2013.  http://metmuseum.org/Collections/search-the-collections/30001014